Cars
stories, links, lists, pics & more >>>>

Worried about Gas Prices ? Go to my "Links" Page ~
There's a couple places to find the cheapest stations near you.

Help out Legendary Race car driver
Chick Stockwell ~
See "For a Cause" page... He lost everything in a fire ..........

Interested in NASCAR ? Go to www.NASCAR.com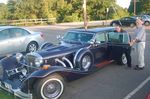 ****************************
Car

Shows &

Cruise

Nights &

More


Maybe you'll see me ........
This photo is of Dad & Me ...
I have inherited my Dad's 2 cars ~ Excaliburs ~
One is a silver & black 2 Dr Convertible (& hard top too)
& the other is a dark navy 4 Dr (sometimes looks purple or black)


Photo by Donna Bliven photography - She's at

http://blivenphoto.googlepages.com

In 2009, Illusions Dance Club & Restaurant in Wolcott, CT
had a show every summery Sunday afternoon.
I got a 1st place trophy (WhooHoo!!) with the convertible.

If you know of any more things that should be on this page,
(& thanks for corrections too)
PLEASE let me know....

lynneslines@juno.com




There are a few lists

& some stories ....
Enjoy !
~~~~~~~~~~~~~~~~~~~~~~~~~~~
7/17/10 ~

Can you find my car???


Classic Car and Truck show at Oxford High School:
Sponsored by Classic Nights Car Club to
benefit VFW Post 12084 of Oxford and Seymour & Oxford High School Band.
Photos can be found at: http://www.classicnights.com/carshow2010.htm



^^^^^^^^^^^^^^^^^^^^^^^^^^^^^^^^^
Connecticut Council of Car Clubs ~ www.ctccc.net
classifieds ~ www.greatoldcars.com Some of their categories:
Antique = 1900>1945
Classic = 1946>1979
Collector = 1980>2004
Trucks of 100 years
Corvettes = 1953>2004
Mustangs = 1964>2004



*******2016*******
6/15/16 - 19th Annual Car Cruise on Main - Middletown, CT 4:30>8>30 - 1991 cut off
7/9/16 - "Horses, Hogs & Hot Rods" car show - 2nd Comany Horse Guard - 4>8pm www.TheHorseGuard.org
*************

2012***************



5/6/12 - 43rd CSRA Swap/Show - Bristol, CT
5/19 - Shoreline Trolley 4th Ann Car Show - East Haven, CT
5/19/12 - Welcome Home Vietnam Vets Day - Shelton, CT
5/20/12 - 1st Ann. Elegant Designs - Berlin, CT
5/28 - 8th Ann.Memorial Day Antique Car Show - Lyme/Old Lyme, CT
6/1/12 - 2nd Ann. Avon High School Car Show
6/2/12 - 7th Ann. EJK Car Show - Middletown, CT
6/3 - 34th Ann. Antique Auto Show - Woodbury Lions Club @ Hollow Park
6/3 - Greenwich (CT) Concurs D'Elegance
6/3/12 - 2nd Ann. Shelton High School Auto Show
6/3 - 24th British by the Sea Show - Waterford, CT
6/10 - 38th Ann. Auto & Truck Meet - Glastonbury, CT
6/16/12 - 2oth Ann. Klingberg Vintage Motorcar Fest - New Britain
6/23/12 - Fire Truck Show - East Haven, CT
7/1/12 - Plainville Wings & Wheels at Airport
7/6 - Sunset Music, Car & Motorcycle - Canaan, CT
7/20 - Sunset Music, Car & Motorcycle - Canaan, CT
7/22 - 34th Ann. Time Machines Antique Car Show & Flea Market, Guilford, CT
7/28 - Safe Net Ministries - Car & Truck - Stafford Springs, CT
8/3/12 - Sunset Music, Car & Motorcycle - Canaan, CT
8/5/12

- 40th Vintage Motor Car Meet - Hampton, CT
8/12 - BCA Yankee Chapter - All Buick - Wallingford, CT

8/17 - Sunset Music, Car & Motorcycle - Canaan, CT

8/31 - Sunset Music, Car & Motorcycle - Canaan, CT
9/23 - N E Oldsmobile Club's ALL OLDS Car Show, Berlin, CT
10/6/12 - Classic Car Show for Middlesex Hospital - Tanger Outlet, Westbrook, CT



**********


2011 CAR SHOWS:


Jan 28>30, 2011 - Frank Maratta's Auto & Cycle Show -
Expo Center, Hartford, CT -

www.fmautoshow.com



April 10, 2011 - Swap Meet - Stafford Motor Speedway, Rte 140, CT
7am ~ Rain or Shine ~ (860)649-3697
Sun April 24, 2011 - 8am>3pm - 4C's
37th Annual Antique Gas & Steam Engine Show
Salmon River State Forest, East Hampton, CT
www.belltownantiquecarclub.org $3 admission
Sat April 30, 2011 - 7:30am>3pm - (860)228-0201
Rte 85, 1/4 mile south of Rte 66, Hebron, CT
$5 Vendor Space / $2 Admission

Sun May 1, 2011 - VFW Post 1946's 2nd Annual Car Cruise


(Rain May 22)

Naugatuck Green - Cut Off 1984
(203)755-1209 - Entry = $10 Donation / Spectators = No Fee

5/27/11

(rain 5/28)-

20th Annual OWTS Car Show - all classes/all years
Oliver Wolcott Tech School in Torrington, CT
www.owtscarshow.com
May 29 - Veteran's Memorial Car Show - Benefits Torrington's Memorial wall
Royal's Garage & Lime Rock Park - 60 White Hollow Rd, Lakeville


www.LimeRock.com
May 30 - Old Lyme Antique Car Show & Flea Market for Lions charities -
http://www.lymeoldlymelions.com/carshow.htm

Sat 6/4

(Rain 6/5)

- 2nd Classic Nights Car Show - Oxford High School -
Benefits American Legion & High School Music
11am>3pm - cut off 1978 - www.classicnights.com
Sat 6/4

(Rain 6/5)

- 6th Annual E.J.K. Car Show (for scholarship fund)
10am>3pm ~ Xavier High School, 181 Randolf Rd, Middletown, CT
All Cars & Motorcycles Welcome ~ (860)870-8590
http://www.ejkcarshow.com
6/4/11 (rain 6/5) - by Farmington River, Greenwoods Rd, New Hartford, CT -
Car & Bike Show for Relay for life "car show for a cause"
http://relayforlifect.giving.officelive.com/carshow.com.aspx
6/5/11 = Woodbury Lions Club 33rd Annual Car Show
Hollow Park, Woodbury, CT
Thurs June 16, 2011 - Car Show at the Wallingford Senior Center

Sun 6/19/11 - Vintage Vehicles & Classic Car Show (Fathers day)
Shelton History Center, 70 Ripton Rd, Shelton, CT
(203)925-1803
Sat 6/25/11

(rain 6/26)

- Bethany Car & Truck Show
for Bethany Vol Fire Dept @ Bethany Airport Field
www.bvfdct.com
Sun 6/26/11 - KofC Classic Car Show - 9am>2pm
Our Lady of Pompeii, 355 Foxon Rd, East Haven, CT

July 2&3, 2011 - Cruisin New England Elite Dream Machines Car Show -
Uncas Ballroom & Thames Garage @ Mohegan Sun
7/9 (rain 7/1o) - 5th Annual Car Show for Immanuel Lutheran Church
Oxford, CT - Benefits the Valley Food Bank - cut off '86
7/31/11 - 10th Annual Car Show - Colonial Tavern, Oxford, CT
benefits CT Partnership for Children Inc
7/24/11 - Classic Car show - 9am>5pm - Benefits Southington's S.T.E.P.S.
Custom Coach, 2211 Meriden Waterbury Rd
chris@custom-coach.com (860)621-5514
July 30 - Oxford Center Fire Dept Car Cruise, CT - Cut off '80 - 4>8pm
Aug 7, 2011 (rain date - Aug 14) - Cruisin' on Main St, Manchester, CT
11am>4pm -

http://www.cruisinonmainstreet.org



Aug 7 - 45th Vintage Motorcar Meet (Belltown) cut off 1975 ~ 8am>3pm
Haddam Neck Fairgrounds off Rte 151, East Hampton, CT
Aug 13, 2011 - Mopars in Mystic Car Show (Cryslers) -
Olde Mystick Village, Mystic, CT - (860) 536-4941
8/13 - Benefit car Show -
Peckham Park, Middlefield, CT 9am>3pm $10

Aug 13 - Classic Car Show, 10am>2pm $5
Village at Mariner's Point, 111 So. Shore Dr, East Haven, CT


Maria: 203-467-0067x13
8/13/11 - Clasic Car show & Concert series 6>9pm
Brick Walk Promenade, 1215 Post Rd, Fairfield, CT

Sat Aug 13, 2011 - 8th Ann. Classic Car show & SockHop - cut off 1978
Masonicare (Ashlar), 139 Toddy Hill rd, Newtown, CT
Peggy (203)364-3107 http://www.classicnights.com/

Rain date = Aug 14 - St Roch's Church 2nd Ann Car Show
Horseneck Rd (across from Boys & Girls club), Greenwich, CT
9am>4pm ~ $15>$20
Aug 14 - RAIN DATE = AUG 21, 2011
CT Cruise News 5th Ann, Car & Motorcycle Cruise Night
"Car 99 Where are you?" 1pm>8pm
Faith Church, 600 Danbury Rd, New Milford, CT
Aug 14 (rain date) - "the Over the Hill Gang eastern Chapter Auto Show"
Benefit ~ Main St, Manchester, CT 9am>3pm
Bud: 860-657-9267
Aug 14 - 5th Annual Sgt Jeff Boucher Car Show -no cut off
Meriden Hub, East Main & State St, Meriden, CT
Aug 14 - 4th Annual Hole in the Wall Gang Benefit Car Show
9am>3pm ~ All Welcome - No cut off
Scranton Motors, 777 Talcottville Rd, Vernon, CT
Aug 19 - Dunkin Donuts Car Show & Cruise Night
6>9pm (203)366-1605 All Welcome
815 Lafayette Blvd, Bridgeport, CT
Sat

Aug 20, 2011 - Classic Car & Motorcyle Show
Rain or Shine ~ 9am>6pm
@ 37th Milford Oyster Festival (festival is free) ~ 10am>6pm
www.milfordoysterfestival.org/classiccarshow
Aug 20 - Port 5 Naval Veterans Car Show (show is full & limited)
69 Brewster St, Bridgeport, CT
Aug 21 - Plasko's Farm Car Show ~ 9am>3pm (come early) ~ 1980 Cut Off
670 Daniels Farm Rd, Trumbull, CT (203)268-2716
RAIN DATE = AUG 21
CT Cruise News 5th Ann, Car & Motorcycle Cruise Night
Cruzin through New Milford "Car 99 Where are you?" 1pm>8pm
Faith Church, 600 Danbury Rd, Rte 7, New Milford, CT
info: donclady@ctcruisenews.com
Sun Aug 21 - Classic Car Show @ Berlin Fairgrounds
Sponsered by Berlin Lions Club & CT Street Legends -
Cut off 1986 - 10am>3pm ~ Food ~ Music ~ trophies
Info: Lions club (860)828-0063 or Legends (860)568-1836

CLASSIC CARS SHOW
SPONSORED BY THE BERLIN LIONS CLUB & CT. STREET LEGENDS. 10:00AM TO 3:00PM
Antique -- Muscle -- Classics -- Street rods -- Sport Cars -- Trucks
Cutoff Date 1986 --- Special Section for Muscle Cars
Show registration fee - $10.00
Appreciation Trophies for the First 100 Cars
Good Food --- Good Music
Only $ 2.00 admission
Aug 26 - Classic Car Gathering ~ 6>9pm ~ All Welcome, No Cut Off
Dragone Classic Motorcars, 176 post Rd West, Westport, CT
Info: 203-349-8840

8/27/11 - CT Burns Care Foundation 2nd Ann. Benefit Classic Car Show
1>6pm ~ (Rain= 7/28) -No Cut Off, All Welcome
4 Corporate Dr, Shelton, CT Ross: 203-925-0002
Aug 27 - VFW Post 9460 Classic Car Show ~ 4>8pm
100 Veterans Blvd./ Stratford, CT Chris: 203-218-8159
Aug 27 - All Corvair Club - $10
Lyman Orchard, 32 Gap Rd, Middlefield, CT
Sun Aug 28 - 8am>5pm ~ HLC Car Show ($25 cars / $10 Bikes)
1118 No. Colony Rd, Wallingford, CT
Aug 28 (rain 9/18) - 26th Annual Sock Hop & Car Show on the Green
1>7pm ~ Rtes 68 & 69 ~ Prospect, CT
Sept 3 - Cruise Congamond - 10am>4pm - 1980 cut off
Babbs Roller skating Rink, Babbs Rd, West Suffield, CT
Sept 4 (rain 9/11) - Classic Car Show Extravaganza - Boy Scout troop 71
Knights of Columbus, 625 Bridgeport Ave, Milford, CT
Rich: 203-258-8057

9/4/11 - D.R.A.G. Dover drag Strip 21st Ann. Reunion
Big Al's Toy Box, 14 Allen Dr, Gaylordsville, CT
1980 Cut Off - 9am>4pm
Sun Sept 4 (rain Sept 5th) - 8th Ann. Labor Day Weekend Car Show
142 Seaside Ave, Westbrook, CT (203)457-0789
Wed 9/7/11 (rain=Thurs) - Cruise Night at Calf Pasture Beach
Norwalk, CT ~ 5>9pm ~ food drive
Sat 9/10 - Antique & Classic Car Show ~ 10am>3pm
Lonetown Farm & Museum, Rte 107, Redding, CT
benefits Redding Historical Society ~


http://www.hcca.org/

http://www.aaca.org/



Sept 10 (rain=17th) - 4th Ann. Car Show & Tag Sale
Holy Name of Jesus Church Men's Society
Stratford, CT ~ 10am>2pm ~ Larry: 203-375-2836
Sept 10 - Classic Car Show & Live Concert ~ 6>9pm ~ No Cut Off
Brick Walk Promenade, 1215 post Rd, Fairfield, CT
Sat 9/10 (rain=11th) - Cheshire Fall Festival & Car Show ~ 3>7pm
Bartlem Park, Cheshire (across from the high school)
Classic & Collector cars ~ $10 ~ Joan:203-272-2345
Music / Food / Vendors Crafts / Fireworks

Sept 11 - East Haven Fall Festival & 17th Annual Car Show
E Haven Green ~ 9am>3pm - $10 -
Food / Crafts / Live & DJ Music
Wayne: 203-469-7823
Sept 11 (rain 9/18) - 32nd Annual Ford Mustang Power Show
1964>2011 Welcome - Manchester, CT
(508)674-5462
Sept 11 (rain 18th) - 15th Ann. All Oldsmobile Car Show
For the Shriner's Hospitals
the Days Inn, 2387, Berlin Tpke, Berlin, CT
DonClady@ctcruisenews.com

Sept 12 - 3rd Car Show & Cruise Night ~ 5:30>9:30pm
All Welcome No Cut Off ~ Ryders Landing Shopping Center,
(exit 53 Merritt Pkwy) 88 Ryders Ln, Stratford, CT
Sept 16 - Car Show & Cruise Night 6>9pm
New York Carpet, 1791 Post Rd east, Westport, CT
limited space - (203)255-0266

Sept 17 (rain 18th) - 5th Annual Downtown District Car Show
9am>3pm ~ All special interest & collector cars welcome -
Central Park on Main St, (between West Main & Chestnut)
New Britain, CT Matt (860)873-2483
Sat Sept 17 = http://NewMilfordLions.org - 11am>7pm
3rd Annual Fair & Car Show - All Years!
Harrybrooke Park, New Milford, CT
$5 admission - $15 Car registration

9/17/11 - 1st Annual KIDSAFE CT Car Show & Flea Market
Golf Land, 95 Hartford Tpke, Vernon, CT (860)
643-2654 or Bill: 860-872-7800

Sept 17 (rain 9/18) - 3rd Annual Benefit Car Show - 10am>3pm
the Lodge at Cold Spring, 50 Cold Spring Rd, Rocky Hill, CT
Sept 17&18 - 11am>4pm ~ Concourse d'Elegance -
Nutmeg Tour for Autism
Westport, CT

http://www.fairfieldcountyconcours.com
9/18/11 - Roaring 2o's Auto Show & Flea Market (cut off 1971)
benefits the Sthby Training School, Rte 172, Southbury, CT


http://www.roaring-20s.org/

(203)267-1942

Sept 18 ~ Norwich Auto Show ~ 8am>3:30pm - Rain or Shine
Dodd Stadium, 14 Scott Ave, Norwich, CT

9/18/11 (rain 25th) ~ 26th Annual Simsbury Fly In & Car Show (8am)
REMAX hot air ballons - LifeStar & more - 1966 cut off
Simsbury Flying Club, 94 Wolcott Rd, Simsbury, CT
http://www.simsburyairport.com/events
9/24 - Police Dept Car Show ~ Live Band / Food
Benefits several scholarships & Union activities
Irish American Home, 132 Commerce St, Glastonbury, CT

Sept 24 (rain 25th) - 4th Annual Antique & Classic Car show~ 10am>2pm
Hubbard Field, No. Main St, Essex, CT ~
Cut off 1980 + specialty - $25

tim@essexautoclub.com


Benefits Child & Family Agency of SE CT

Sept 25 = CANCELED - RAIN DATE = 10/2/11 -
3rd Annual Harvest Cruz - any year / trophies
Sieman Bus. Park, Watertown, CT
Matt (860)274-9315
9/25 - 14th Annual Antique motor Vehicle Show - 9am>3pm
Pre 1930s - Mystic Seaport, CT

Sept 25 (rain Oct 2) - Ann. All Pontiac & Oakland Fall Show - 8am>5pm


www.nutmegchapterpoci.com

mike (203)266-7089
Barberino's Car Country, 505 No Colony Rd (Rte 5) Wallingford, CT
9/25 (rain 10/2) - 5th Ann. Lochite Auto & Bike Show
One Henkel Way, Rocky Hill, CT
All Welcome ~ 10am>3pm Rick:860-571-2512

10/1 (rain 10/2) - 2nd Ann. Wheels & Sheilds Car & Motorcycle Show
9am>3pm ~ Beach Cruise following the show ~ No Cut off ~
Bridgeport PD Local 1159 ~ McLevy Green, Bridgeport, CT
Info (203)581-5131 (203)581-5121

Oct 1, 2011 (rain 10/2) - Air & Land Fest - 10am>4pm -
Winthrop Rd, Chester Airport, Rtes 145&80, CT
Fly, Drive or Walk in!! Lots of entertainment
Tom Reidy (860)227-4844


www.meetup.com/cpg1200

or

www.chesterrotary.org



10/2/11 - (rain date for cancelled event)
3rd Annual Harvest Cruz - any year / trophies
Sieman Business Park, Watertown, CT (off Echo Lake Rd)
Matt (860)274-9315
Oct 2 (rain 10/9) - 11th Annual Pyramid Shriners Car & Truck Show
Orange Fairgrounds/ Rte 152, Orange, CT ~ 9am>4pm ~
Will: 203-367-0423

http://www.pyramidshrinerscarclub.com



Oct 2 - 11th Annual CT USA Car Show to Benefit Breast Cancer
Hammonassett State Park, Madison, CT
Rain or Shine ~ 9am>3pm

www.csra.org



Sun Oct 2, 2011 ~ Vettes @ the Village - Corvette Gathering -
Olde Mystick Village, Mystic, CT - (860) 536-4941

Oct 7 - Car Show & Cruise Night - 6>9pm - limited space
New York Carpet, 1791 Post Rd East, Westport, CT
(203)255-0266

Sat Oct 8 (rain 9&15th) - Hot Rod & Kustom Fall Out 5 ~ 1963 cut-off
Elks Club Pavilion, 98 Woodland St, So. Glastonbury, CT


http://hotrodfallout.com/



Oct 8 - Middlesex County Car Show & Festival / Run & Walk
Benefit Middlesex Hospital ~ 11am>3pm
Tanger Outlet Center, 314 Flat rock Pl, Westbrook, CT
Classic cars, all makes & models $10
(860)399-8656X11
Oct 16, 2011 - Lions Club 42nd Ann. Benefit Car Show
MPI Corp., Rte 67 & Cogwell La, Seymour, CT
8am>4pm ~ All show cars welcome
Bob (203)410-9401
Oct 22 -

Annual Car Show - live entertainment, chili etc
Glastonbury Police Officers Assoc. & the Irish American Soc.
10am>5pm - Call (860)462-5361 (more info below)
Nov 13 -

??? Salute to the Veterans & Marine Corps Birthday Celebration
Motorcycle & Car Show ???


******

2012 CRUISE NIGHTS:


alt SUN NIGHTS - 3:30>8 - Scarpelli's 865 Migeon Ave, Torrington, CT - no cut off
MON NIGHTS - 6>9pm - Motorcycle & Cruise night - 19 Waterbury Rd, Thomaston, CT

TUES NIGHTS - NO Cut Off - 704 Bridgeport Ave, Shelton, CT

TUES NIGHTS ? Bilda Burger, Woodbury, CT
WED NIGHTS - 5:30>9pm - Car & Bike - at Ted's. 43 Berlin Rd (Rte 372), Cromwell, CT

FI NIGHTS - Trophys on last of month - Grandma Rosie's Place,1503 Thomaston Ave, Waterbury, CT

Alt. FRI NIGHTS (see dates) - 5>8:30pm - Guida's Thunder Rods, Middlefield, CT - No Cut Off
5/11, 5/25, 6/15, 6/29, 7/13, 7/27, 8/10, 8/24, 9/14, 9/28
FRI NIGHTS - Torrington McDonalds -

SAT NIGHTS - 5>8:30pm - Bristol Farms Plaza, 1235 Farmington Ave, Rte 6, Bristol, CT
Free - No Cut off

SAT NIGHTS - 6>9pm - Sycamore's Drive-In, 282 Greenwood Ave, Bethel, CT

SAT NIGHTS (see Special dates) - Big Daddy's Pizza & Deli, 1633 Main St North, Woodbury, CT
corner of Rtes 6 & 67 - No Cut Off - 4>8pm
NO Cruises on 5/26, 6/2, 7/14, 8/4, 9/1
6/16 = Alzheimer Raffle table,
7/21 = Xmas in July = Decorate your car & Bring a Toy (rain 7/28)
8/11 = Food Drive - Bring Non-Perisables (rain 8/18)
9/15 = Halloween Car Dress Up (rain 9/22)


******************************************************


*****2011 CRUISE NIGHTS*****


MON nights - Meriden Rd, Wolcott, CT (near Dunkin Donuts)
MON nights - Smiley's HotDogs, 19 Waterbury Rd, Thomaston, Ct -
X38 off Rte 8 - 6>9pm - www.ctcruisenews.com
TUES nights - 5>8:30pm - Lake Zoar Drive-In, Rte 34, Stevenson, CT
every TUES - McDonalds, 2915 Main St, Glastonbury, CT - 6>9pm
1st & 3rd TUES - 5:30>8:30pm - Sonic, Rte 5, Wallingford, CT
Brad (203)265-9000 - www.sonicofct.com
3rd TUES of Month (4/19/11>9/20/11) - Aero Diner, Rte 6, Willimantic, CT
Every TUES (starting 4/19/11) - 5>9pm - Split Rock Shopping Center,
Bridgeport Ave, exit 12 off Rte - cut off 1958
Every WED night - Early Bird Cafe, Ridgefield, CT (no cut off dates)
WED nights - corner of Rtes 188 & 67, Southford, CT
3rd WED of Month (starts 4/20/11) - 5pm>sunset (Rain>4th Wed)
Good Times Motoring Club - on the Green in Colchester, CT
THURS > 7/21

(rain 7/28),

8/4,

8/25

(rain 9/1)

(5>8pm dusk)

www.applepirobotics.org


Apple Pi Robotics presents...

(more info below in red print)


Little Red Barn at Bishops Orchard, Guilford, CT
every THURS - 6>9pm - Fresh Market, 605 Post Rd Westport, CT
All Welcome - x18 off I95 - www.seaportcarclub.com



every FRIDAY - 5:30>9:30pm -
McDonalds KMart Plaza, 693 Main St, Torrington, CT
(860)482-2464 or Kathy (860)309-9019
every FRIDAY - 6>9pm - (Apr 29>Sept) - "Tri Town Cruisers"
CT Golf Land & Games, 95 Hartford Tpk, Rte 83, Vernon, CT
(860)763-1508 www.tritowncruzers.com
every FRIDAY - 6:30>9pm - "Classic Car Nights Car Club"
Village Sq Shopping Center, Monroe, CT
cut off year 1978
some FRIDAYS - "Get your Kicks on Rte 66" - Guida's
cut off 1980 - (860)614-4130 - http://thunderrodsct.com
1st & 3rd SAT nights - Panera Bread, 3120 Berlin Tpke, Newington, CT
5>8:30pm
every SAT - Sycamore Drive-In, 282 Greenwood Ave, Bethel, CT
6>9pm - (203)748-2716 www.sycamoredrivein.com

************************


Cruise Nights put on by Apple Pi Robotics. 5PM – 8PM (dusk) Thursdays - June 23rd, July 21st (rain date 7/28), Aug 4, August 25th (rain date is Sept 1st). Includes antique and unusual cars, barbecued hot dogs and hamburgers, soft drinks, music, and robotics demonstrations and lots of FUN!. No better atmosphere for a relaxing Cruise Night than the grassy fields in back of the Little Red Barn at Bishops Orchard right off Route 1 in Guilford, CT. Come enjoy some of the best music from the 50′s and 60′s, have a barbecued burger and watch the sun go down while "talking cars". The Apple Pi robot is being prepared for a featured "real world role" in the event so come and meet out 2011 competition entry – "Little Foot". Admission is FREE although donations of any kind are greatly appreciated. All donations and proceeds from our concession are used to fund the Apple Pi Robotics Program

www.applepirobotics.org



***2011****

10/22/11 = The Glastonbury Police Officers Association, with cooperation from the Irish American Society, 132 Commerce Street, Glastonbury, CT, will hold their annual Car Show on October 22, 2011 from 10:00 A.M to 5:00 P.M. The show has live entertainment, raffles, chili and plenty of other assorted food for sale. The large fields at the Irish American Home are filled up with cars of any age and style. The proceeds from the event go to the Glastonbury Police Officers Association, who in turn sponsor different scholarships for High School Students with an interest in the Criminal Justice Field. This is fun filled event, open to all ages. A great time for all, this is our third and final rescheduling of this event, due to weather. Lets hope for clear skies, if not see you next year! Any questions? Call 860-462-5361.
***********2010***********


Saturday, Aug. 14, 2010 ~ Summer Fair Car Show No rain date
Sponsored by 1st Church Congregational of Clinton & Probus Club of Greater New Haven


All proceeds to support summer scholarships to Camp Horizons, a camp for

special needs children and various Church missions


All Cars Welcome ~

RT. #1- Downtown Clinton

Across from 1st

Church behind Town Hall




Registration begins at 8 a.m., $20 per vehicle

.....

Awards and drawings – 3 p.m.


All donations are tax deductible




Visit the Summer Fair

for Food, Vendors, Auction, Children's Area



July 25, 2010 - Bristol, CT
Exchange Club of Bristol Car Show
July 25, 2010 - Guilford, CT
32 Annual Time Machines Antique Car Show & Flea Market
July 31, 2010 - Plainville, CT
2nd Annual Plainville Charity Auto Show
August 1, 2010 - Manchester, CT
10th Anniversary "Cruisin On Main Street"
August 11, 2010 (Rain date Aug 12) - Norwalk, CT
Coachmen Rod & Custom Beach Cruise Car Show
August 14, 2010 - Warren CT
Warren Volunteer Fire Company - 5th Annual Car and Truck Show
August 28, 2010 - Plainville, CT
Plainville Fire Company's 125th Aniversary Car Show and Sock Hop
August 22, 2010 - Farmington, CT
Dream Ride Day 2010
September 1, 2010, 2010 (Rain date Sept 2) - Norwalk, CT
Coachmen Rod & Custom Beach Cruise Car Show
September 5, 2010 - Lime Rock, CT
Sunday in the Park
September 5, 2010 - North Haven, CT
North Haven PBA 3rd Annual Car Show
September 5, 2010 - Westbrook, CT
7th Annual Labor Day Weekend Car Show
September 18, 2010 - Wallingford, CT
Village Green of Wallingford, Relay for Life Car & Motorcycle Show
Sept 19, 2010 ~ Car show in Southbury
9/19/10 = Norwich Auto Show http://festivalnet.com/state/connecticut/ct.html
Sept 19, CT = car show in Washington, CT
October 2, 2010 - New Britain, CT
New Britain Downtown District Car and Motorcycle Show
October 3, 2010 - New Hartford, CT
CARTOBERFEST 2010
October 10, 2010 - Brooklyn, CT
Brooklyn Swap Meet