Class Notes, Updates, Dances Taught & Schedule....
Line Dancing with Lynne ....

Scroll down for my full

schedule

, class

info, "rules" about the weather


& some of our favorite dances ~ They are listed below these notes ...



Class Changes

(conflicts, snow dates, vacations, illness, etc)
3/17/16 - I have gone to the ER - from there to Yale > Smilow!
Classes will resume when I have recovered from this health battle -
I miss all of you very much and can't wait to restart classes!)
Oct 2016 - Remission
Mar 2017 - It's back!
April 2017 - Starting trial meds at Yale/Smilow and chemo again!
Still missing my dance world!



SAVE A FLOOR - CHANGE YOUR SHOES

By Bill Hollick
Dance floors take a real beating during the nasty weather season when folks track in sand, salt and snow. Even if you don't have special dance boots or shoes, it's a great idea to wear alternative footwear while traveling to your favorite dance hall during the winter months. Change before you dance and then change back after you're done. Dance hall owners and all the other dancers will appreciate your efforts to keep the dance floors in good shape.


Note from me

: This applies all year long. Driveways & Parking lots have sand & gravel in the Summer too !!!!! and WET soles squeak & stick !!!!
Here's a photo taken at Illusions in Wolcott, CT ~ More photos can be found on the other pages ...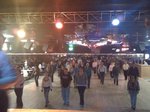 Please........


Wear Comfortable & Safe shoes or boots ~
Some venues require Soft soled shoes/sneaks only.
At my classes, I ask for NO open toe shoes/sandals &
Make sure your shoes have backs or ties so that
there are no accidents!
Thanks !!!! (a happy teacher has happy students)
Please note:
Some classes/courses need to be registered in advance
(usually a minimum of a full week before start date).
Failure to PreRegister & PrePay WILL cause these classes
to be postponed for several months or stopped altogether.
Some classes also require membership with the center.
So, register early to avoid being disappointed.
Lynne's Schedule ~ Subject to Changes.....
Watch for Guest teaches too...
I hope to be available again to DJ &/or Instruct at Parties/Weddings/Events/BBQs/HoeDowns/Fairs etc... See the "DJ Services" Page
*****************************
What about Inclement Weather (snow, flood, heat, wind, ice)???
In general (but not always)....
If schools (in that town OR mine = Oxford) are:
closed = Stay home, stay safe, enjoy your free day...
delayed = Morning class is cancelled.
have early dismissal = Afternoon class is cancelled.
If there are ???s (because the TV & Radio reports don't make sense)
then check with the Center or look for my messages...

Evening classes will (hopefully) be decided by 4:00.
Messages may include e-mails, texts, facebook or updates on this website's "Schedule" page.

Facebook is great source for updates, so please "friend" or "Like" me/us (Lynne Flanders, Lynnes Lines, Tuesdays with Lynne, Founders Hall & Watertown Recreation)

***************************

COUNTRY LINE DANCING

Learn some old "Basics" & "Hot" New Dances.
Different dances will be taught each week with a lot of review.
Adults of any age and from any town are welcome!
It's a terrific way to have a lot of fun, no partners needed!!
Get some exercise and meet new friends.
Beginners are welcome - If you can walk, you can dance!
If you have any questions, please email Lynne Flanders at lynnes-lines@juno.com
Now is the time to "GET IN LINE".
Round up a friend and mosey on over for a foot stompin' FUN time!
NO OPEN TOE/HEEL SHOES allowed.
Please PreRegister & PrePay For This Class Early!!!

**************
It is with a great deal of sadness and loss, that I announced the closing of Illusions Nightclub in Wolcott, CT. That was my "home" for many years. I was an instructor there for MANY years and made numerous friends there. They were honored Sponsors of NEWDA...
However, I am excited and thrilled for the Burby Family. They are enjoying a very well deserved RETIREMENT! I still chat with Linda all the time (after all these years they are more like family than employers).
I wish them every Happiness.
****************
To all of you that were coming to the Old Toll Gate (Woodbury) =
THANK YOU !!!!
We had some fun times, learned some great dances &
we knew how to party (sometimes with a theme).
I really enjoyed our time together...
We shall meetup again somewhere - Happy Dancin'

******************************
Favorite Easy & Beginner Dances
(see harder ones in next list)
(Includes some favorites that we have forgotten):
Never Give Up! - Lynne Flanders (my friends have taught it - thanks!_

Till It's Gone - Lynne Flanders - to Kenny Chesney
http://www.copperknob.co.uk/stepsheets/till-its-gone-ID102991.aspx
(Sounds Good) Don't It? - Lynne Flanders - to Billy Currington
http://www.copperknob.co.uk/stepsheets/sounds-good-dont-it-ID101844.aspx
Small Town Throwdown - by ME - to Brantley Gilbert's song
http://www.copperknob.co.uk/stepsheets/small-town-throwdown-ID98679.aspx

Priscilla - Randy Pelletier - song by Miranda Lambert

Fallin' - an oldie taught at NEWDA

Stomp - Dee B - (paddle turns - kick-n-point)

Neon Light - Jill Weiss - song by Blake Shelton

Fun For All - Sue Ann Ehmann - Lots of songs!!!

Love You Right - to Luke Bryan's That's my kind of night

Hooked on the Beat - Janis Graves - to Brett Eldridge song

Goodnight Kiss - Jill Weiss - song by Randy Houser

Ready to Roll Baby - to Blake Shelton's song

Point at You - to song by Justin Moore

Rock Me (Donna Manning) to Wagon Wheel by Darius Rucker

All Over the Road - June Shuman (can take out last turn for contra)

Afterglow (cha) - Marc & Cathy Abramson - Bellamy Brothers

Back in the Day (Dan Albro) (to Jessta James)

Kerosene - Fun dance to song by Miranda Lambert

Hog Wild - to song by Hank Williams jr

Blue Night Cha (song by Michael Learns to Rock) (has 3/4 turn)

Brown Chicken Brown Cow (EdRoyko)(to Trace Adkins)

Love, JoAnn (to Billy Currington's Love Done Gone)

Lover, Lover (Ed Royko) to song by Jerrod Niemann

Redneck Angel (to Merry Go 'Round by JaneDear Girls)

Catch 32 (Kay Amburn) to Small Y'All (Kenny Chesney with George Jones)

Where'm I Gonna Live = Easy, No turns ..... (to Billy Ray Cyrus)

I Don't Care (to Darius Rucker with Brad Paisley)

Scoot (to Black Coffee) = nice Warm Up

This Little Light (to send out our Prayers !!!) (Jo T & Scooter Lee)

Old Bones = Fun Song !!! (George Burns - can you believe it ?!?!)

Anything Goes (Gerard Perraud & Me) - to "anything"

Roll With It (Peter Metelnick) to Easton Corbin's song

Don't be Cruel (Dancin Dean) song by Elvis

Hillbilly Bone - Fun ! to Blake Shelton & Toby Keith

Need You Now (floor split - Gwen & Gerrylynn) to Lady Antebellum

Country As Can Be = attitude ! (to Brady Seals)

Little Red Book (to the Drifters)

Soldier Boy Stroll (Rosie Multari) to Scooter Lee's song

You & Tequila (works to other songs too)

Blue Rose Is = Classic ! to Pam Tillis' song

Hello Dolly!!! Fun - need I say more!

Triple Play (SueAnn) to Moo La Moo & several others too

Penguin Dance (to Scissor Sisters)

Cherokee Two Step (by David Pytka)

I'm Wrapped (mine) to George Strait (slow, cool down)

Fire & Ice (mine) to Lenny Paquette

Dum Dum (by Ed & Dot Cagley) to Brenda Lee

Eye Candy (by Gerard Murphy)

Step Right Up (Dancin' Dean) song by Cactus Choir

Tulsa Time - another classic

Rainy Nights (to Eddie Rabbitt) - fun

Bartender Stomp - Classic (kind of like Electric Slide with extra stomps)

Waltz Line Dance (to Kenny Rogers) (sometimes Contra style)

Cokernut Waltz - to Scooter Lee's song

Cab Driver (the OLD classic version to Scooter Lee))

San Antonio Stroll (the OLD classic version) Tanya Tucker

Elvira = Classic !!!

Little Rhumba (to the Bellamy Brothers)

Angel Touches (slow - nice cool down)

Valentino (to Sammy Kershaw & Lorrie Morgan)

Hey Baby (by Country Bound) to Marty Stuart

Haunted Heart = Classic (to Sammy Kershaw)

Texas Cha Cha = Classic (to George Strait)

Cowboy Cha Cha - another classic!

Red Hat Strut (to Mustang Sally or I'm Too Sexy)

Sexy Ol' Lady (onto Alan Jackson's Too Much of a Good Thing)

I Walk the Line (Ed Cagley) to Johnny Cash

Baby Don't Go (also done to Suzy Boggus' "Baby it's Cold Outside")

Cucaracha (we do it slower to "My Old Love" Suzy Boggus)

Come On & Dance (to "Wait a Minute" by Notorious Cherry Bombs)

Come Dance with Me = Pretty !

Broken Stones (Dee Musk) song by Paul Weller
Favorites that are just a little Harder
as we progress to Intermediate ~ Frequently Requested ~
Some forgotten GREAT ones that we need to redo!
Every Star - Doreen & Randy Pelletier - to Keith Urban's "Even the Stars"

Both = Homegrown - Dan Albro or Rachael's - Zac Brown Band

Bad About To Happen (aka BATH) by Dan Albro to Miranda & Carrie's song

Shiner's Waltz - Michael Diven (PA) (nicknamed "Spin"er's Waltz)

Brand New Buzz - Dan Albro & Randy Pelletier

American Kids by Randy Pelletier (MA) to Kenny Chesney

Funky Donkey by Bernadette Gill (NY) to Jerrod Niemann's Donkey

River Bank by Jill Weiss (CT) to Brad Paisley's song

Cabana Boy (John Dembiec) to Little Umbrellas - Sarah Darling

Redneck Boys (Donna Manning) to Boys Round Here - Blake Shelton

a Drink in My Hand (Sandy Goodman)

Creepin' (we love it) - Eric Church

Redneck Angel to Merry Go Round JaneDear Girls

Crazy Ride (intermediate) by Matt Thompson

As She's Walkin' Away (Rachael McEnnany)

Hey (Frank Trace) to Blake Shelton

One More Drinking Song to Jerrod Niemann

Live, Laugh, Love & Dance (Michael Diven)

Dig It - Cajun song by Eddie Raven & JoEl Sonnier

Skinny Dippin' (Carolyn Robinson) song by Whitney Duncan

Under the Sun (Kathy Chang & Sue Hsu) by Tim Tim

Kick Back - to Smoke a little smoke by Eric Church

Down in Mexico (Peter & Alison) song by Jerrod Niemann

All About Tonight (Dan Albro) song by Blake Shelton

The Little White Church (Helen Conroy Noonan) Little Big Town

Toes (Rachael McEnnany)

Yours (Michael Diven) Jason Mraz

Trailorhood (Dan Albro) Toby Keith

Soak it up (Mary Beal) to David Bradley

Is Baby's radio on? (Ginny Allen) Reba's "Turn on the Radio"

Hot Tramp (Dan Albro) to "Ho Down" Brady Seals

Cowgirls don't Cry (John Dembiec) to Brooks & Dunn (NOT Reba's)

You Look Good in My Shirt

My New Life (aka Prissy)

All My Friends (David Pytka)

Downpour (Paul McAdam) - "Meant to be" is country alternative

Start to Sway (to Pussy Cat Dolls)

Add 'Em All Up (Contra)

Way Up Yonder (mine) to Billy Currington's Good Directions

Irish Stew

Got Ticks ? (mine)

Survivor (Peter Metelnick)

Happy Radio (Frank Trace)

Taking Time (mine) to "Gone" by Montgomery Gentry

Surfin' in a Hurricane (Christine Bass) to Jimmy Buffett's song

Tailgate (Dan Albro)

Raindrops for Perfidia (Forty Arroyo)

Badonkin' (Nikki Wyllie)

Rio to Patricia

Unlock My Heart - Unlove Me

Smokey Places

Anniversary Waltz line

Summer Waltz to Captured by Rick Tippe

Coastin' (Irish)

"C" Me (Nikki Wyllie)

Always an April Fool

Cadillac Tears (David Pytka)

As If (Junior Willis)

Country Girl (Rob Fowler)

Wings (Lyndy)

Walking Backwards

Ashes By Now

La Gordita Linda (Max Perry)

Rollin' in Dirt (Christopher Petre)

Barbed Wire & Roses (David Pytka)

Kill the Spiders

Mexico Bound

Adaptable (Frank Trace)

Batter Up (John Robinson)

North Hill Cha (Joanne Brady)

Beer for my Horses

I love this Bar

Beer Goggles (Michael Diven)

Kiss This

Afterparty

Helluva Polka (Kathy Hunyadi)

Cute, Cute, Cute

Dizzy

My Maria

Sexy Tractor

Being Mr Mom

Wild & Crazy Saturday Nights (Alice Vlahos)

Hillbillies in the Hay (the Amatos)

Bomshell Stomp

Mockingbird

Garbage Man (Hot Pepper)

Greased Lightening (Michelle Burton & Michael Barr)